(photo from here)
This is the day I've been waiting for a long time. Getting my own apartment, renovating it to my liking and planning everything. Yes, I've been living at home until now and trust me, I've been trying to find an apartment and I meant to move as roomies with my bf but plans changed. But now, I'm finally getting my own apartment.
It's a very nice three room apartment (becoming two-room apartment after we'll expand the freakishly small kitchen near the city center so everything is quite nearby. The area is the best and there are also good walks which I can take with my dog.
Of course, the best part is planning and then getting to decorate it. I've left the actual renovating mostly to my mother, since she's better with that. But I have very clear visions of what I want - colourwise too. I've already decided that my kitchen will be painted somewhat in the shade of cafe latte, my living room will be light lime green, my bedroom will be light rosy pink. I haven't decided the color to the small hallway though. It might stay white, or i might do light lavender or the same as my living room (since it kind of continues to the living room anyway, so that would be the obvious choice - on the contrary I have never been that obvious).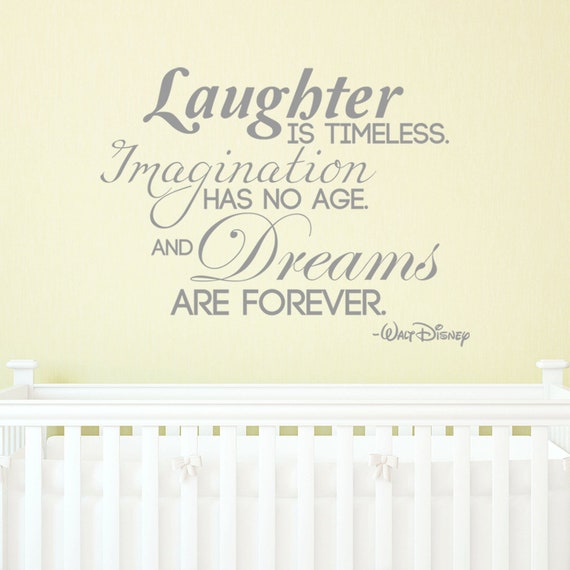 (photo from here)
I'm a bit of a quirky person - well let's just say I'm an adult who will never grow up, I'm my own Peter Pan. So I've chosen to have Disney Quote wall decals in every room. Except the hallway cause that's too small. And the bathroom maybe, we'll have to see that. I will get the above wall decal to my bedroom. And for my living room it will be plainly "Hakuna Matata". My kitchen will have a quote from Alice "I believe in at least six impossible things before breakfast" - fitting huh? And as for my bathroom, if it fits.... "Mirror mirror on the wall...".
Yeah well, my apartment won't be turning into a Disney shrine though. I love it in a small amount in my decorations. I can't wait to get all my photos up in the wall and the paintings - one particular Tinkerbell painting from Disneyland Paris and the lovely drawings of some characters by my best friend.
As for my kitchen - oh dear that will the the most important room to me, even though fate has put some hardships ahead of me. See, I had decided that I wanted Gorenje's retro fridge/freezer in milk coffee. Problem? Yeah, turns out it's nowhere to be found anymore so I might have to go with champagne. My kitchen will probably have sort of country romanticism since I love all the lovely wooden boxes that say candles and teas and also the metal jars.
I will begin to renovate my place next month, although it might not be done until late August. Most of the places that produce cabinets for kitchens and all are usually closed in July and it takes some time... But I will definitely post photos of improvement after everything gets started.
On other things. Hockey. I love hockey. I'm a diehard fan of IIHF but the unbelievably incompetent referees piss me off so bad. Sadly Finland didn't make to the final games. Gladly USA won bronze and Canada won gold, I'm so happy about this since I'm very patriotic in this game so Swedish team and Russian team are the two teams I love to watch lose the games. Nothing against the countries or actual people. I bet they are as much pleased to see Finland lose too :D But yes, don't even get me started with the idiotic, blind, are-you-goddamn-serious referees (who always seem to be either Swedish or Russian, seriously?!). Also I think that knowing that FIN-RUS and FIN-SWE are practically nemesis' in the brink, no Russians or Swedish should be put to judge our games as well as no Finnish referees to Russia's or Swedish games. NHL referees would be just a+ for World Championship games. But well, those are over and my stress levels are back to normal. Kinda.
It's a beautiful day outside and it finally feels like summer!
with love,